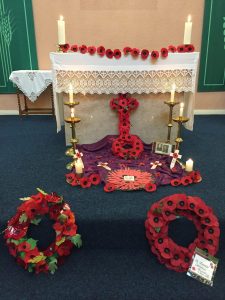 Our school is a big part of our parish and our parish is a big part of our school!
We love going over to church for our school and class Masses and meeting our friends who are parishioners at St James'. We also love welcoming the parishioners (or "regular customers" as Fr Paul liked to call them) to our school for services like Ash Wednesday and events like the Parish Fair.
We often contribute displays and art work for celebrations at church, we leave our Harvest Collection so the parishioners can see it and contribute to it on Sunday, we take our wreaths to the Mass on Remembrance Day and we share our Holy Week artwork.