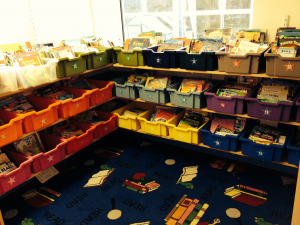 Reading is an essential skill and reading for purpose and pleasure is encouraged in all classes.
In our library we have books for all ages and interests. They are regularly updated and we try to include works of modern authors as well as the classics.
Reading books are carefully selected from a range of reading schemes and a selection of real books. All books have been book banded and Reading Recovery levelled, which allows children to make progress within each colour band. Each book box contains a range of fiction, non fiction and poetry.
Our books are centrally located so there is access to all levels for all ages of children. The children are encouraged to select and return their own books from the boxes; this gives them the independence to choose what they want to read.
Our guided reading books are banded in the same way and stored in the library.
For more information about reading please visit our English Interventions page