What a wonderful start to Year 2 we have had! The children have settled in so well and are ready to go!
This term our Topic is Our Island, learning all about the geography and history of the UK, and preparing dishes from all four nations!
In science we will be learning about the human lifecycle, comparing species and learning about their habitats. In computing we will begin with online safety, and then move on to coding and digital photography! Our RE topic will be Chosen People, followed by Mysteries in the second half term. In PSHE we will be thinking about our communities and learning to be a Worry Wizard! We will continue to follow Charanga for our music which we love, especially the glockenspiels, and on Tuesday in PE with Terri we will be improving our ball and movement skills.
We will be continuing to learn how to read using the Read, Write, Inc. scheme of work, and working collaboratively in maths, following Maths, No Problem! This term we will learn to use numbers to 100, improve our addition and subtraction, and learn about 2D and 3D shapes and their properties.
We are really looking forward to using some new exciting books as our focus in English following our new scheme, Pathways to Write. We will begin by writing a poem all about ourselves, followed by reading Troll Swap by Leigh Hodgkinson and then writing our own story. After half term we will use The Owl Who Was Afraid of the Dark by Jill Tomlinson to inspire us to write non-chronological reports about owls!
We are also very excited to personalise our own sketchbooks to kick start our new art curriculum, Access Art, followed by learning to Explore and Draw and Be an Architect.
Added to all of this, it is our turn to learn in Forest Schools! We will be having great fun getting muddy and learning outside with Mrs. Malone!
We are going to be super busy but we can't wait! Keep checking back here to see photos of our great work!
Forest Schools
On Monday we had our first Forest Schools session. Despite the rain we had a wonderful session playing games, exploring, cooking in the mud kitchen, making dens and gathering in the circle for hot chocolate! The children showed excellent cooperative and resilience skills, well done!
We have now had two more Forest Schools sessions and we have been really impressed with the creativity and adventurous nature of the children, well done!
Last week we celebrated a wonderful mass planned by the children on the theme of saying 'thank you' to God. They delivered it beautifully and even sang their bidding prayers, well done!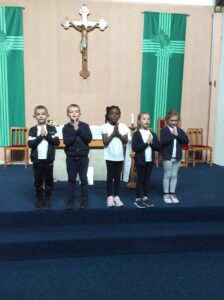 This week we had our last Forest Schools session. We met Mrs. Malone's stick insects and learnt to light fires, before having 'posh dogs' round the fire! The children have thoroughly enjoyed it and developed so many new skills, including cooperation, perseverance, risk taking, food preparation, and creativity – well done!
On the 11th on November we had a wonderful Remembrance Service in school. The children all made poppies and spent time reflecting on all that people serving in the Armed Forces have done for us.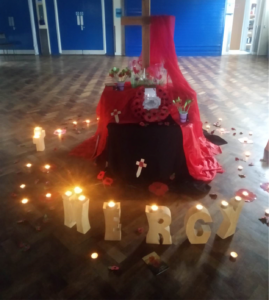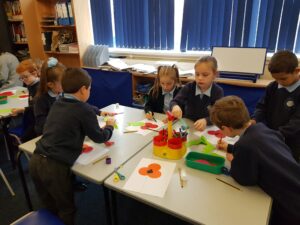 This term our topic has been Our Island. We have learnt all about the geography and history of the UK, and had a wonderful day preparing dishes from all four nations! We learnt so many food preparation skills, such as peeling, chopping, weighing, rubbing, mashing, mixing and rolling, as well as learning about ingredients and how to follow a recipe. What a great day! We made stew and dumplings, haggis, neeps and tatties, welsh cakes and had soda bread to go with it all, what a feast!
Thank you for all your hard work completing this term's homework project all about the UK! We have had paintings, models and information booklets and the effort that has gone into them all, and the quality of the work that has been produced has been fantastic, well done everybody! I loved seeing the range of different ideas and how creative you have been! I hope you enjoyed creating these together at home. Here they are on display in school: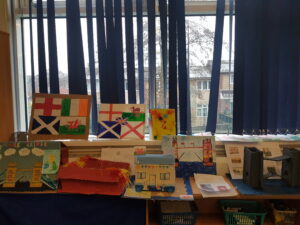 We have really enjoyed getting ready for Christmas in Class 2 and have had lots of special reflective worship sessions around our Advent wreath. Along with Class 1, we put on a wonderful Nativity production, A Magical Christmas Journey. The singing and acting was fantastic from everybody, well done!