Autumn Term
How exciting it was to be back at school after such a long time learning at home before the summer.  I know everybody was excited to see their friends again and start a new class too!
English
This term we have read 'The Gruffalo' which we really enjoyed and I think we all know it off by heart now.  We have done lots of work about the Gruffalo, including labelling, using descriptive language, book reviews, character descriptions,  designing our own 'Gruffalo' and even re-writing the story.  We have also been improving our sentence structure and concentrating on our use of capital letters, full stops, spaces between words, handwriting, exclamation marks, question marks and commas in lists.  We are now looking forward to a new book next term :-)
Take a look at some of the fantastic English work we have done;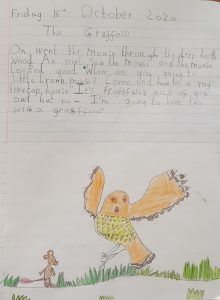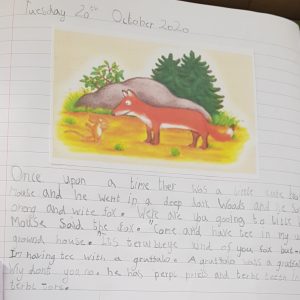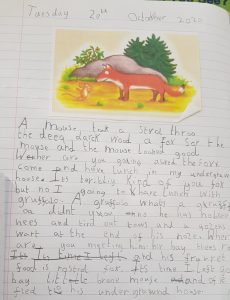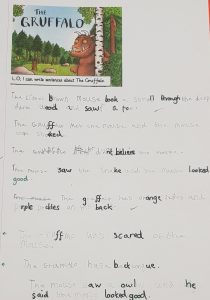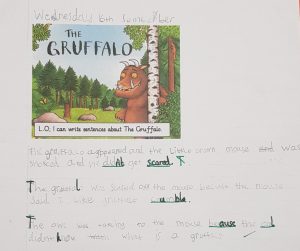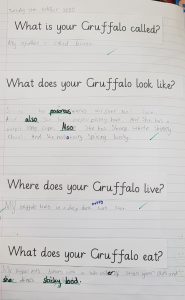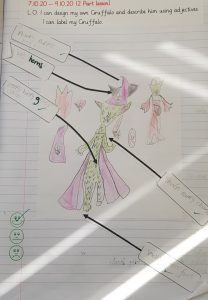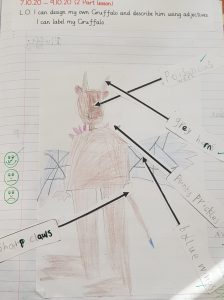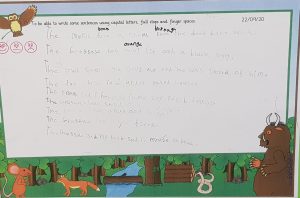 Maths
I have been so impressed with the Maths skills the children have and we were able to get stuck straight into 'Maths No Problem' in September.  We have been working super hard but we also have lots of fun problem solving too.  This term we have concentrated a lot on number, place value and addition and subtraction of one and two digit numbers.  We have used a variety of methods and the children have blown me away with their journaling skills which we have practiced and perfected.  We are now looking forward to getting stuck into Multiplication next term.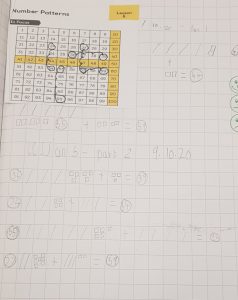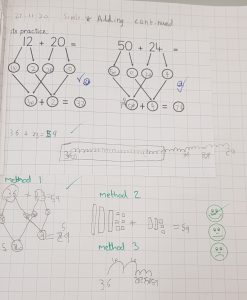 Religious Education
The first two topics we have covered this term are 'Chosen People' and 'Miracles'. We have read the stories of Abraham, Daniel and The Lions Den and Moses and we have even done some drama too and performed the story of Moses in front of our friends. We have enjoyed finding about the special talents chosen for us by God and we have talked about them in reflection time and thanked God for our wonderful gifts.  We particularly enjoyed re-telling the story of the first Christmas in our Nativity which we were able to film for our families to watch online.  We were disappointed that we couldn't have our usual 'live performance' but we certainly made the most of it and we recorded a fantastic Nativity.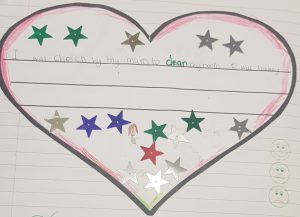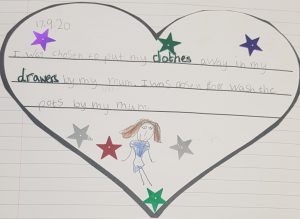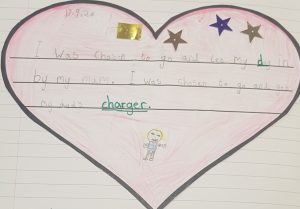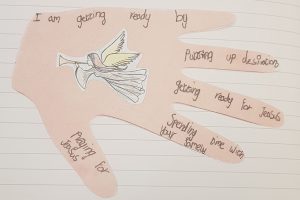 History
This term Miss Jowitt has done a lot of work with the children about The Great Fire of London.  The children found out what is was like to like to live in London during the fire by reading the diaries of Samuel Pepys and they even had a go at writing their own diaries as if they had been alive during this time.  The children also found out lots of information about Remembrance and made their own poppies, did some painting and looked at different historical sources such as paintings and photographs and asked questions about them.  We also managed to squeeze in some work on Guy Fawkes too!!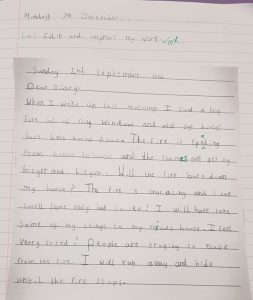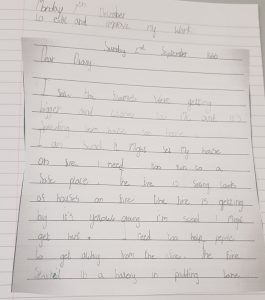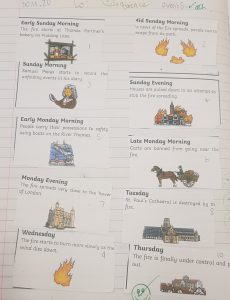 Geography
We have enjoyed learning more about The UK and the four countries that make it. We have also used atlases to place the capital cities and surrounding seas. We have also used and completed maps in Forest schools.
Design and Technology
This term we have concentrated on design.  We have designed Poppies, A Gruffalo, Christmas decorations and we even designed a Hedgehog house.  We were also able to follow some designs to create our own Poppies using plates and we worked in groups to build a Hedgehog house during Forest School lessons.
ICT
This term we have practiced logging in and most of us have now cracked it and can navigate our way into different apps independently.  We also started 'Coding' and are learning how to create our own programmes and manipulate characters and objects within different programmes so they follow our instructions, it was difficult but a lot of fun.
Forest schools
We were the first class to start Forest schools this year and we were lucky enough to work with Mrs Alcock, who planned amazing lessons for us.  We loved learning outside and we learnt so many new skills.  We made birdfeeders, collages, Hedgehog houses, muddy men, leaf flowers and much more.  One of our favourite activities was making fire.  We had to be very sensible and it takes a lot of skill using the flint and steel but we did it; Miss Birtles and Miss Seton-Jones were particularly excited about it!