Class 1 have begun forest school sessions and are loving it! Take a look at the fun so far, thank you to Andrew for helping to take some of the photographs. I think we have a budding photographer in our class!
It has been lovely getting to know all the children in Class 1 over the last couple of weeks. We have been very busy with our learning. I have been really impressed with how well the children have remembered their phonics sounds and our focus moving forward will be to concentrate on supporting the children to use their phonic knowledge in all their writing. The children are making fantastic progress in their reading too. It really shows that families have been working hard on home learning during the lockdown. Thank you. We will also be working on improving our handwriting and remembering capital letters, full stops and spaces between our words. You all told Miss Chapman how much you enjoy watching the Read Write Inc. videos on the Ruth Miskin Virtual Classroom for your phonics lessons during lockdown, please continue to watch and join in with the Fred Talking to read, and pinching your sounds.
This is some of what we have been up to over the last three weeks in school;
What a shock we had when aliens visited our classroom and made a mess. They left slime on the floor, launch pad circles outside the classroom door, boots, spacesuits and lots of UNDERPANTS everywhere! We found a letter from Ziggy the alien saying sorry for the mess. We think they visited because we had drawn our own parking symbols and stuck them to the window. We had been learning about reading maps and map symbols and were confused by the 'P' for parking because it could have symbolised a park, picnic, path or pavement. We designed our own parking symbol. Ziggy must have seen them and decided that outside our classroom was a safe place to park. Thanks to the lists we wrote and the found posters we made Mummy alien said she would be able to rememember what had been left behind and could replace them. She said we could keep the things they had left for our space station role play area. Ziggy left us some treasure in the school playground and a map so that we could find our surprise. We hope they will visit us again soon with another treasure hunt!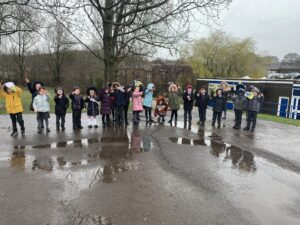 In art we have studied Piet Mondrian, and have replicated his abstract style using collage, crayon and ICT.
We know that his work uses primary colours, black and white and lines.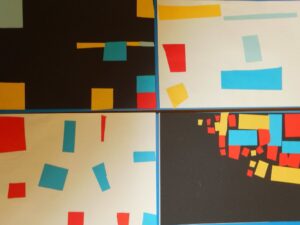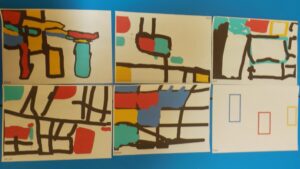 In Re we have continued to learn about how we can 'Follow Jesus.' We have dramatised the story of the Good Samaritan and understand that we too can help others by being a good friend and not walking past others who might need our help or friendship.
During Holy week we retold the Easter story, made our own diary and symbolic crafts relating to each day from Palm Sunday to Easter Sunday and celebrated a thoughtful class Good Friday liturgy.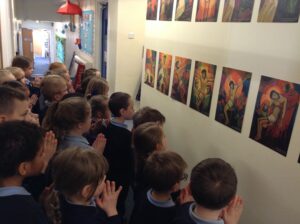 Good Friday ICT artwork
We retold the the events of Good Friday, reflected in prayer and created artwork as a class to complete the whole school 'Way of the Cross.'
It has been a very busy but enjoyable 3 weeks!
Have a lovely Easter.
Mrs Sanderson