This term our topic is Me and My Home, looking at the different types of houses we live in, and how they are different to those in the past. In Science we will observe the seasonal weather patterns of Autumn, and name the parts of our body and the associated senses. In Maths we will begin 'Maths – No Problem!', and count, order and compare numbers to 10, followed by addition and subtraction to 20, looking at shapes, positions and patterns later in the term. We have started learning our phonics using Read Write Inc. and are already making great progress! In English we will look at stories with familiar settings and repeating patterns using Peace At Last by Jill Murphy, and The Very Hungry Caterpillar by Eric Carle. In Art we will study Pablo Picasso and draw in his style, and in DT we will design and make a healthy snack. We will also make our own information books by labelling different types of houses. Our RE topic is God's Great Plan, looking at the creation story, and in Advent it will be Mary Our Mother. We can't wait!
For our English work we used Peace At Last by Jill Murphy. We enjoyed listening to the story and recreating all of the sounds that kept Mr. Bear awake, and began joining in with the repeated phrases.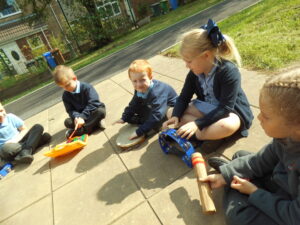 We have reinforced this learning through sequencing activities and role playing the story.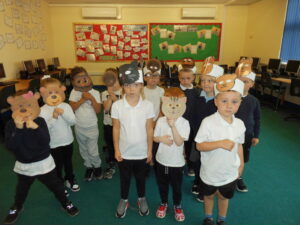 We have completed practical activities in Maths – No Problem. We have shown we can count, order and compare numbers to 10.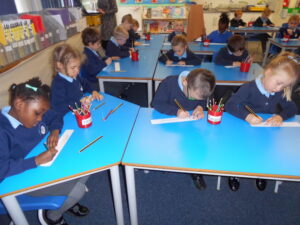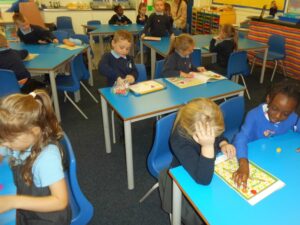 In Science we looked at our bodies and our senses. We investigated if everybody's body was the same and through comparing discovered they were not!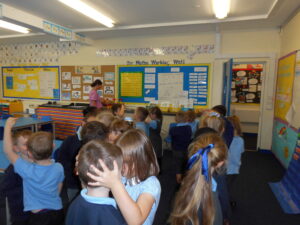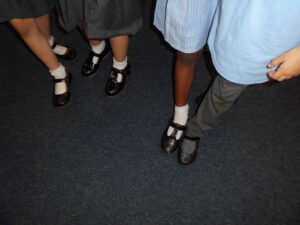 Then we drew round our bodies and labelled the different body parts using key vocabulary.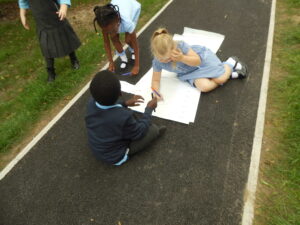 We have really enjoyed investigating our senses.
We have done a listening quiz,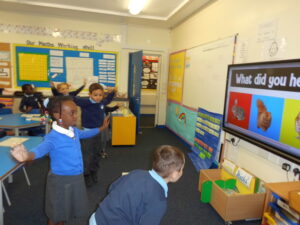 and a feely bag challenge!
We have discovered how important our senses are to help us find out about the world around us.
We have also taken our learning outside to investigate the changes in weather and the season of Autumn. We had a nature walk around the school grounds and wrote about the things we could see, hear, smell and touch .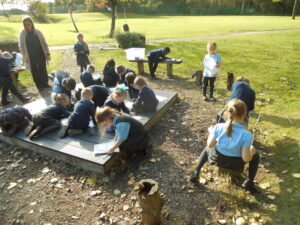 In RE we have discussed right and wrong choices and showing kindness to others. We made a promise wristband to remind us that we all are part of God's family who care for each other.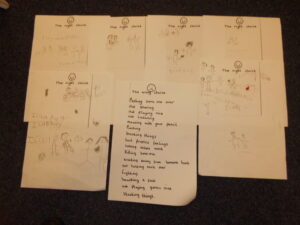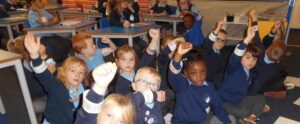 We have begun to plan some lovely Collective Worships in Class 1 on the theme of God's beautiful world.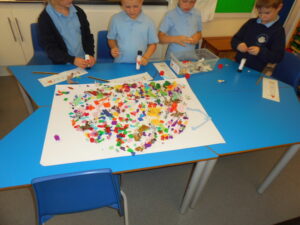 As we entered the season of Advent we made a beautiful wreath.
We have learnt about how Angel Gabriel visited Mary and then we made angels for our display.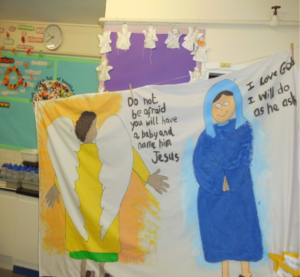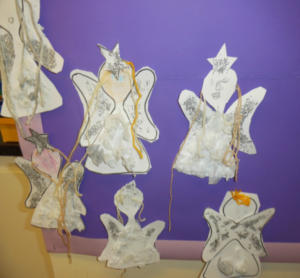 We were very excited to perform the KS1 Nativity.
The first few weeks were fantastic to develop our independent learning as we have worked hard to complete our Rocket Challenges. We have practised independent writing; painted and created collages; learnt how to log on to the computers and begun to learn how to log on to Lexia; constructed houses and vehicles; read a variety of books and recorded our favourite parts; made up new families in the role play area; practiced our ordering of numbers in words and numerals and learnt to play snakes and ladders and dominos; played phonics games; worked on our fine motor skills; practised labelling the parts of our body, and much much more!