We love our sport at St James' Catholic Primary School and enter competitions organised by Tameside Sports Development and by the Tameside Catholic Schools Sports Association ( TCSSA).
Each year we take part in as many sports as we can!  Last year we took part in… basketball and netball tournaments, girls, boys and mixed football, tag rugby, kwik cricket, cheerleading festivals, swimming galas, hockey competitions, cross country and athletics meetings, tag rugby competitions and KS1 festivals. This year we are going to try rounders!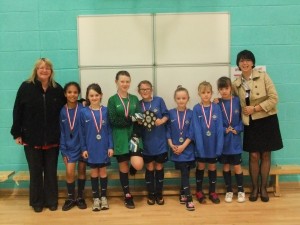 Funding from the Primary School PE and Sport Grant is being spent on providing transport so that we can enter more competitions against other schools, we have increased our sports coach hours with Terri and employed Mr Partridge to organise and train for more competitions.
Our next priority is to drain our back field so that we have some where decent to play our home matches.