We enter the Tameside Catholic Schools Sports Associations Cross Country Competition each year and always have great success. The scores are collected over three weeks and individual and team trophies are awarded.
This year we came home with not one but TWO trophies so we are currently the under 9 boys champions and the under 9 girls champions  Well done to everyone who competed! It is a long way to run and we admire anyone who finishes!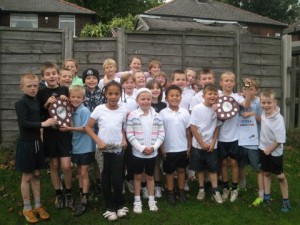 Honours
2017/ 2018…    TCSSA U9 boys, U11 Boys and U9 Girls Champions
12018/2019…        TCSSA Individual Medal, Brooklyn Hiorns              TMBC Gold Medal, Koby Rowbotttom
2019/2020…    TCSSA U9 Girls and U9 Boys Champions
If you enjoyed running and want to do more, you join East Cheshire Harriers.